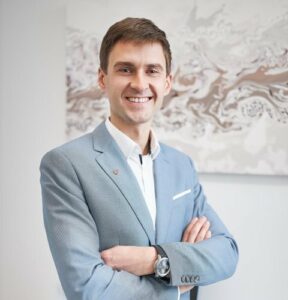 My main goal is to familiarize people with the inner workings of dental services in a simple way. Before choosing a dentist, it is important to understand what the whole team is made of and how it was formed. Indeed, many people are oblivious to the fact that (in our estimate) various production stages of prosthetic works take up as much as 94 % of total time spent on a patient's case while the work of a dentist throughout the treatment is only 6 %. Thus, the longevity of the prosthesis or other restorations depends to a major extent on the dental laboratory and the specialists working there.
I believe that in order to ensure the quality of dental prosthetics for a patient, the dental clinic and laboratory must be one unit. Essential benefits the patient receives from this are the all-round quality guarantees from one source. Karolis Čepulkauskas – dantų technikas, laboratorijos direktorius
Dantų Estetika's laboratory has assembled a team of technicians who perform the works to the highest standards of quality and use certified, EU-compliant materials to produce beautiful and long-lasting dental restorations.
The head of the laboratory, dental technician Karolis Čepulkauskas, has been working in this field for
more than 13 years.
The specialists of the laboratory are constantly improving and regularly updating their skills in Lithuania
and abroad, accumulating professional knowledge from various experts in this field.
The laboratory of dental technicians, in cooperation with the clinic, strives to create impeccable quality
with the help of the latest technologies, equipment and materials.
Even the simplest denture is made with the utmost care.
Got questions? Contact us!