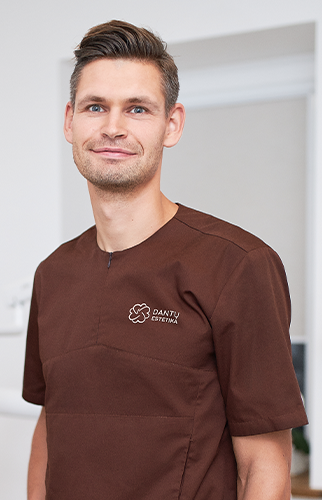 PROSTHETIST, AESTHETIC RESTORATION SPECIALIST
EDUCATION
In 2013 completed the study program of dentistry at the Medical Academy of the Lithuanian University of Health Sciences, obtained the qualification of a dentist.
WORK EXPERIENCE AT DANTŲ ESTETIKA CLINIC:
Prosthetist since 2021 05
TRAINING
2013-11-25-26 Module 2 on Composites from GC, Belgium.
2013-03-09 Modern concept of restoration, Kaunas.
2013-02-23 Prosthetics on dental implants with fixed and removable dentures. Intensive course for beginners, Vilnius
2012-09-7-8 Baltic Osseointegration Academy Congress, Kaunas.
CONFERENCES
2015-11-11 Clinical stages of dental crown defect restoration with mini prostheses (onlays, inlays). Subtleties of cementation, Kaunas, Lithuania.
2015-05-09 LOOD International Conference "Prevention of Complications in Orthopedic Dentistry, Kaunas, Lithuania.
2014-11-22 Teeth and implant prostheses in the aesthetic zone, Vilnius, Lithuania.
2014-04-4-5 Innovations and current events in dental practice, Palanga.
2012-05-11-12 Dentistry today, Vilnius.
2012-04-20-21 Innovations and current events in dental practice, Palanga.
2012-03-9-10 Quintessence Baltic bruxismus, Kaunas.
2011-10-22 Aesthetics, function and advanced technologies in dentistry, Kaunas